August already!  We are back in Bangkok and back at work this week – so it's a good time to try to catch up some on "Wanderings" from last month. One of the highlights of my short stay in Paris two weeks ago was a much-anticipated trip to the Rodin Museum.   A word of advice: if you want to visit this museum [Musée Rodin], midday on a Sunday is probably NOT the best time!
When I reached the street where the entrance is located, there were unruly queues extending in both directions from the doors.  More throngs were visible lining up inside.  My French passed 'rusty' years ago and has since deteriorated into rags and remnants, so I was a bit shy to ask anyone  to help me make sense of the unclear signage.  Instead, I joined one queue, hoping to listen into surrounding conversations to establish if it was the right one.  As soon as I lined up, a Spanish tour group arrived out of nowhere and half of them decided they would prefer to be ahead of me rather than behind.   This was particularly annoying as my Spanish is less existent than my French and I still didn't know if I was in the right place!
I thought I'd try the other queue for a while, and was lined there, fidgeting but otherwise not moving for about 15 minutes, when I overheard enough to realise that this was the line for those who had pre-purchased tickets.  I considered giving up, but the museum is not open on Mondays and I had missed it on my last Paris trip.   So, back to the first queue I returned.
Although it seemed to take forever to gain entry, once inside, most of the crowd melted away.  Between the huge gardens (over three hectares, according to their website) and the two buildings, the museum can contain a huge number of patrons without feeling unduly squashed.
Perambulating clockwise, the first sculpture I spent time with was the incredibly poignant "Les Bourgeois de Calais", which represents the conquest of Calais by the English in 1347 after a long siege.   The six Burghers, each with his own distinct expression of despair and defeat, are en route to hand the keys of the city to the English King in symbolic surrender.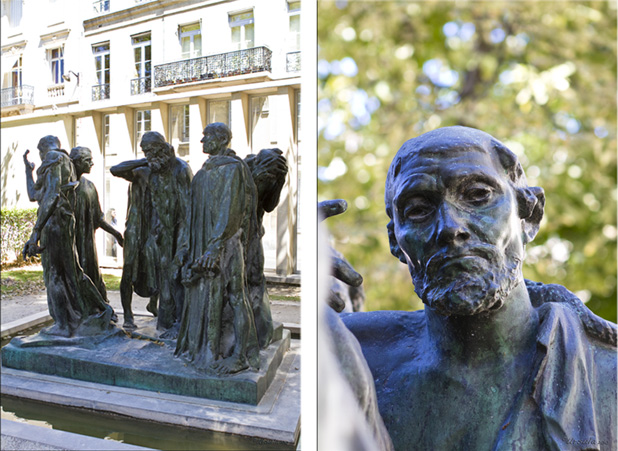 Les Bourgeois de Calais, by Auguste Rodin (1840-1917), in the Gardens of the Hôtel Biron
You can buy a ticket which is good only for the gardens, and Parisians and visitors alike make use of this option to come and sit in luxuriant green, surrounded by flowers.
I've never forgotten seeing my first 'live' Rodin, over thirty years ago when The Kiss was on loan to an art gallery in London.  The sensually smooth curves of cool marble just beg to be touched. The beauty of the Rodin Museum, as opposed to the Henry Moore exhibit which I visited at The Tate Gallery in London two days later, is that you can get up close to most of the sculptures, and you can photograph most of them, albeit without flash.  All the Moore's, by contrast, are off limits: many are behind ropes or behind glass and no cameras are allowed.
Beautiful gardens, a beautiful building, stunning works of art…  all in all, an afternoon well spent!
More of my Flickr photos of sculptures and carvings are HERE for anyone who is interested.

(Photos and museum visit: 18th July, 2010)