"Did you kiss the stone?" my daughter asked me by phone from London.
"No, but I kissed someone who did," I replied, laughing. "They say that that is the next best thing."
Now, I could tell you that I didn't kiss the Blarney Stone because, as I end my second year of Weekly Wanders, I don't want to add more gab to my postings, but that would be blarney.
Truth is, after exploring the gardens in the pouring rain and working my way around the castle and up the wet and narrow stairways, I couldn't cope with the idea of removing my hat, glasses, raincoat, umbrella, two cameras and camera bag – all while standing exposed to the wind and rain at the top of the battlements – in order to be suspended upside-down by a gruff man in a raincoat so that I could kiss a rock. My husband, however, was more amenable, and I reckon that was enough for both of us!
I didn't mind missing out, because – to my mind – the real joy of a visit to Blarney Castle is a walk through the extensive gardens, and taking in the charm of the castle itself. It rained on the day of our visit (as it has just about every day of our stay – Ireland has just finished the wettest June on record), but this only added to my sense that there might just be faeries around the next corner…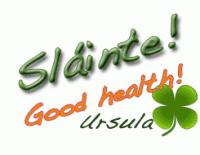 I didn't notice any improvement in eloquence from my husband – or indeed myself – but I was entranced by the castle site and left it with pink cheeks and a happy heart.
That is its true gift.
Sláinte! Good health!
Photos: 2012June18